Oakland Park Truck Towing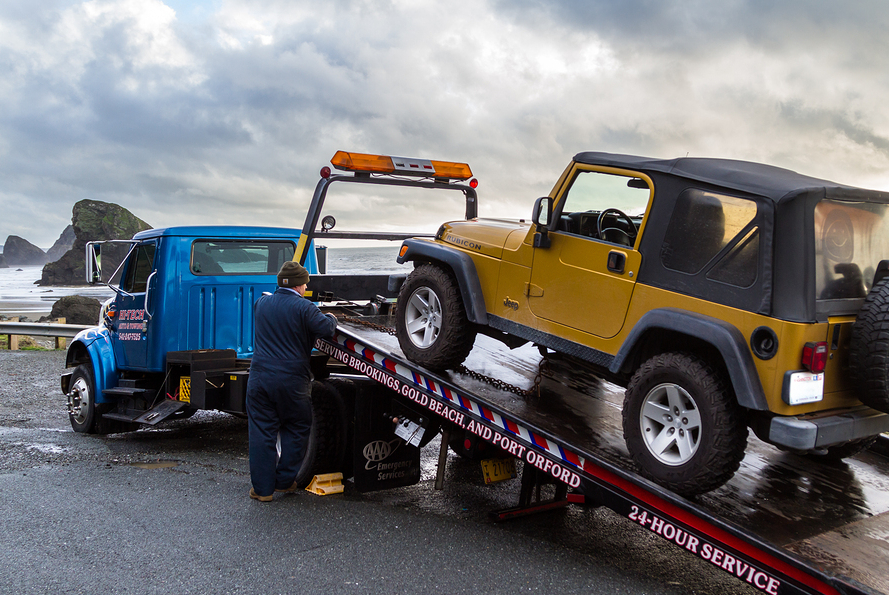 Look no further than Oakland Park Towing Company if you're searching for towing services in Oakland Park, Florida. Our team of expert tow truck operators is capable of handling any sort of vehicle, large or little. We're available 24 hours a day, 7 days a week, so give us a call the next time you need a tow.
Tow trucks aren't only for cars. At Oakland Park Towing Company, we have a fleet of integrated tow trucks to haul commercial vehicles like big rigs and dump trucks too.
If your heavy-weight vehicle breaks down in Broward County, give us a call at (754) 799-8866. We'll arrive quickly and tow your truck in Oakland Park, FL or wherever you need to go.
Rigs, Buses, Boats, and More
It's one thing to have your little Mazda MX5 quit on the way to work. It's another when a busload of schoolchildren has an engine failure in the middle of a field trip. In any case, Oakland Park Towing Company is always where you want to be. We can tow pretty much anything that will fit on our flatbed trailers, including:
Buses

RVs

Boats

Dump trucks

Big rigs
Not only does our integrated towing service have the capability to tow large objects, but we're also able to take on other heavy-duty vehicles such as construction equipment. That's right–bulldozers and backhoes. No matter the size or scope of the job,our team of certified tow truck operators can handle it.
How Does Integrated Towing Work?
The vehicle being towed is generally lifted off the ground by its front or rear end when it is hauled using regular towing. This can be hazardous for certain types of vehicles and is usually not suggested for bigger ones. Integrated towing, on the other hand, entails pulling the entire vehicle onto the flatbed using a variety of pulleys, winches, booms, or wheel lifts. This method is considerably safer and may be used on almost any sort of automobile.
The vehicle being towed will be hauled to its destination using a flatbed trailer, which is commonly used for long-distance tows in order to reduce wear and tear on the vehicle. 
An integrated tow truck leaves an impression. These machines are colossal and while they may not move quickly, they're constructed to transport oversized loads.
SUVs and Pickups
If your car doesn't need to be towed, that's no problem. We have other options in our fleet like pickups and SUVs that can sometimes get stuck in difficult places. But don't worry, we know how to handle these situations. With the right tools and experience, we'll have you unstuck and on your way in no time flat.
Our Company also offers other services such as emergency EV charging, heavy-duty towing, fuel delivery, and more.
At Oakland Park Towing Company, we have a tow truck available 24/7 that's perfect for any type of vehicle. Don't hesitate to give us a call the next time you need assistance.
When it comes to towing, there's only one company you need to know in Broward County: Oakland Park Towing Company. We're always here to help, no matter what type of vehicle you drive. Call us today at (754) 799-8866.