Oakland Park Motorcycle Towing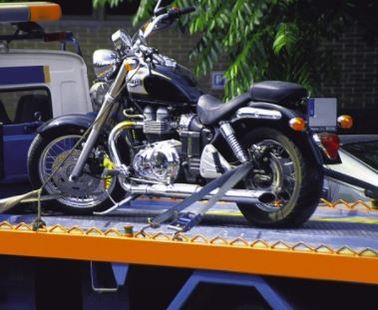 If you're looking for a new and thrilling hobby, look no further than motorcycling. There's nothing quite like cruising down the open roads on a beautiful sunny day…
Except when you find yourself in need of a tow, in which case don't hesitate to give Oakland Park Towing Company a call. Dial (754) 799-8866! We specialize in motorcycle towing and will be more than happy to help you out.
Any Sized Bike For Any Sized Problem
The most interesting aspect of Oakland Park Towing Service is that we will tow any size bike, regardless of the problem. Whether you have a used Victory Vegas that won't start or an old Yamaha Special II that's been in your garage for years, we'll come and get it and transport it where you want it to go.
Being stranded is never fun, especially in the middle of the night. Luckily, our team is available 24/7 to help you get back on the road. Just give us a call and we'll be there as soon as possible.
Engine Trouble, Dead Battery, Low Fuel
When you need motorcycle towing, Oakland Park Towing Company is here to help. We have all the necessary accessories and equipment to handle any kind of problem. If you've run out of gas, we can bring you some. If your battery is dead, we can jump-start it. And if your engine is giving you trouble, we'll take it to a mechanic for you. There's no need to worry about anything when Oakland Park Towing Company is on the job. We're here to help, no matter what the problem may be.
When you're in need of motorcycle towing services near Oakland Park, FL, look no further than Oakland Park Towing Company. We provide reliable and affordable tow truck services 24/7. So don't wait until you're stranded on the side of the road. Give us a call at (754) 799-8866 today.
How Do You Tow A Motorcycle?
It may surprise you to learn that there are specific methods for towing a motorcycle. The last thing you want is your bike being damaged by a towing service that isn't familiar with these types of situations. We can't simply attach the front wheel of the bike to a wrecker and call it a day. Instead, we'll lash it onto one of our flatbeds or utilize a towing cradle (we prefer flatbeds in this instance).
Professionalism and quality service is our number one priority here at Oakland Park Towing Company when it comes to motorcycle towing. You can rest assured knowing that your bike is in good hands with us, as we have the experience and expertise to tow it quickly, safely, and without any damage. Plus, we have a variety of tow trucks to choose from so that we can always find the right one for the job – no matter what size bike you have.
We also offer other services including a tow truck company, winching service, auto wrecker, and more.
Whenever you need a motorcycle tow service, put our team at the top of the list. We're always ready to help at (754) 799-8866.